Blog Home
Get Organized With These Simple Tips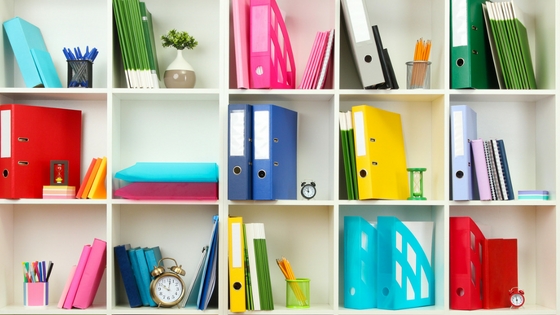 With up to 1,305 square feet of living space, newly renovated kitchens and bathrooms, and spacious closets, there is plenty of room in your Franklin Township, New Jersey apartment to store all of your favorite things. Even with all the space, however, we at The Harrison understand that life tends to become a little messy and disorganized at times.
In today's post, we'll be sharing a few priceless tips and suggestions for your organizing needs. These solutions are affordable and easy to adopt in your apartment today!
Foldable Drawer Dividers
This is a great solution to many people's clothing storage problems. It's easy to neatly store smaller clothes in these multi-sectional organizers, and they can be found online on many different websites. For a great example, check out these foldable drawer dividers from Sorbus. Here's what the article has to say about them:
"The storage box is able to make the best of your room, while at the same time help you find small items in a hurry. This storage box is made of a high-quality durable material for a long time use. The design makes this storage box a perfect space saver for your home."
Hanging Closet Storage Organizer
One example of a great hanging storage option is the Over Door Fabric Organizer from mDesign. Store your wallet, purse, hats, gloves, mail, or a number of different items.
One satisfied Amazon customer said, "It helps me go through the mail right then instead of throwing it on my kitchen table to look at weeks later. I have broken down the slots by importance and let's not forget the neighbor's mail which I deliver as soon as I can. It fits perfectly on the back of my front door and does not look too messy if kept neat."
These can be easily inserted into shelves, on the floor, or in tight spaces. They're available in a variety of colors and sizes, and they are great for toys, clothes, books, or whatever else you can fit into them.
"These fabric storage bins are a fun and creative way to organize; toys, clothes, blankets, towels and so much more. DII's foldable fabric storage bins are available in a variety of colors and designs!"
The Key Holder
If you often ask yourself where the keys are, then it might be time for you to make or buy a key holder. Storing keys has never been easy. At the end of the day sometimes we just toss the keys onto the counter or couch with little thought about it. Then, when morning comes we start to panic. "Where are they?" With a key holder, you no longer need to ask that question.
Key holders are great for more than storing your keys. Some hold the mail or other items. Check out these 16 Key Holders To Keep You Organized for some ideas.
While these are just four simple solutions to a never-ending problem, we know that there are other suggestions (some even better) out there. If you have any tips, tricks, or suggestions for how to better organize your apartment, please share them in the comments below today's post. Let's help each other to better organize our apartments! Thanks for reading today's post.